iTunes...BY POPULAR DEMAND!...iTunes

Get the audio portion of LES PORTES TORDUES or
LAS PUERTAS RETORCIDAS on your Smartphone, iPad,
or iPod, and listen to the 46-track mysteries anywhere!


LES PORTES TORDUES can be downloaded at: iTunes, AmazonMP3, and CDBaby.com!
LAS PUERTAS RETORCIDAS can be downloaded at: iTunes and Audible.com at Amazon!




2018: The ESL (English as a Second Language) version of the The Twisted Doors is sold out! Dior Publishing thanks all the students, schools, and universites worldwide for choosing The Twisted Doors! The Scariest Way in the World to Learn English!


The author, Kathie Dior, was interviewed for the Winter 2014 edition of the Lafayette Magazine.


"FROMMER'S TRAVEL GUIDES list Les portes tordues in at least 3 of their travel guide books (Brittany, Normandy, Provence)!


The Alliance Française of San Francisco is one of the latest of many alliances worldwide who have added Les portes tordues to their library!


The new 324-page ELL EFL ESL (English as a Second Language) textbook and audio CD are now available for purchase on the ESL Home Page. Detailed information including a description and sample chapter with audio can also be found on the home page.


Dior Publishing is a proud sponsor of Black History Month on WIBN RADIO 98.1 FM.


We are thrilled that the Alliance Française de Washington, D.C., has put Les portes tordues in their media library, with the following description: "This dual language mystery book with accompanying CD is ideal for students of French to practice listening and reading skills while enjoying a story." The irony is that the author herself attended the Alliance Française de Paris when she was a young student. She would have never imagined that one of her books would one day be a part of this wonderful school.


Las puertas retorcidas and Les portes tordues have been invited to one of the world's most important book fairs, INTERLIBER, the 29th International Fair of Books and Teaching Aids, in Zagreb, Croatia. We are truly honored by this invitation. Following the book fair, the books will be permanently exhibited in the ISIP - International Permanent Exhibition of Publications, in Zagreb.


BRAVO TV has asked permission to use Las puertas retorcidas as a prop in one of its very popular TV shows.


Las puertas retorcidas and Les portes tordues will be displayed at The Distributors booth at the following book shows in 2006: GLBA & MBA.


Las puertas retorcidas and Les portes tordues will soon have a cousin: a new ESL version! Your suggestions and comments are always appreciated.


Las puertas retorcidas and Les portes tordues will be displayed at The Distributors booth at the following book shows during the autumn of 2005: Great Lakes Booksellers Association, Midwest Booksellers Show, and the Mid-Atlantic Booksellers Association.


Las puertas retorcidas will be on display at the AATSP conference in New York on July 30 and 31, 2005. World of Reading with display the book at Booths 3 and 4.


In June 2005, Les portes tordues and Las puertas retorcidas will be displayed at The Distributors booth at BookExpo America in New York City. We welcome everyone to come and see our books.


Dior Publishing supports the National Center for Missing & Exploited Children (1-800-THE-LOST). Click here to listen to the radio broadcast on WIBN-AM radio.


Las puertas retorcidas and Les portes tordues were exhibited at the California Library Association and the California School Library Association shows in November 2004 at the Combined Book Exhibit booth.


In the business section of the Lafayette, Indiana newspaper, the Journal and Courier, Max Showalter writes an article on Kathie Dior's struggle and triumphs while writing and publishing The Twisted Doors books.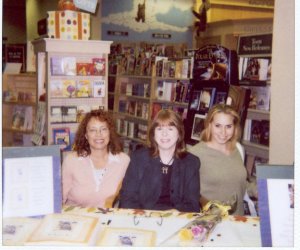 Kathie Dior (center) signing her books, Les portes tordues
and Las puertas retorcidas, at Barnes & Noble, October 20, 2004, in
Lafayette, Indiana. Left is Sherry Bragg, Purdue University Gifted
Education Coordinator, and right, Julianna Bragg, student.



The ISBN company, R.R. Bowker, has placed The Twisted Doors in the "Titles to Watch" category. This is a great honor for us.


We are flattered that Les portes tordues received a five "Fleurs de lis" rating from an editor of the American Association of Teachers of French or AATF.


Sophia Books, a well-known multilingual bookstore at 492 West Hastings St., Vancouver, BC, V6B1L1, is acting as our distributor in Canada. This is very advantageous for our Canadian customers as they will not have to pay the hefty exchange rate as well as possible customs charges. Sophia Books provides same day shipping and may be reached toll free at 1-888-684-4032. Sophia Books is offering a 15% discount for purchases of 10 or more Les portes tordues or Las puertas retorcidas.


Here are a few of the prestigious bookstores that are carrying our books: Harvard University: Schoenhof's Foreign Books, Yale University Bookstore: The World Language Center, Powell's Books of Portland, OR, and Sophia Books of Vancouver, Canada.


At the request of teachers, we have added a teacher's guide. We welcome any comments or suggestions regarding this guide.